Automatic table is available for reservation on every day from 11:00 to 22:00 except for the Fridays and any other days of «Tesuji» official meetings (you can find all «Tesuji» official meetings announcements here: https://vk.com/tesuji). Automatic table may also be not available for reservation on the days of major «Trilogiya» events.
You can check if automatic table is available on the given day in the calendar at the bottom of this page.
To make a reservation contact us through Telegram https://t.me/K000000000 or by private message in vk https://vk.com/id2687580. In both cases please write your full name, phone number, reservation date and time. Please wait for the reply with the reservation confirmation.
You can also make a reservation by phone +7 926 122-08-87.
Automatic table reservation fee is 350 RUB per person. Person making the reservation is also charged with a 1000 RUB security deposit, which is returned when you leave.
When you have finished playing, please put all the tiles in the appropriate cases face down and lay out the scoring sticks on the table as shown on the photo below. «Trilogiya» manager will check the set integrity (if all tiles, wind indicator and scoring sticks are present) and will then return your security deposit.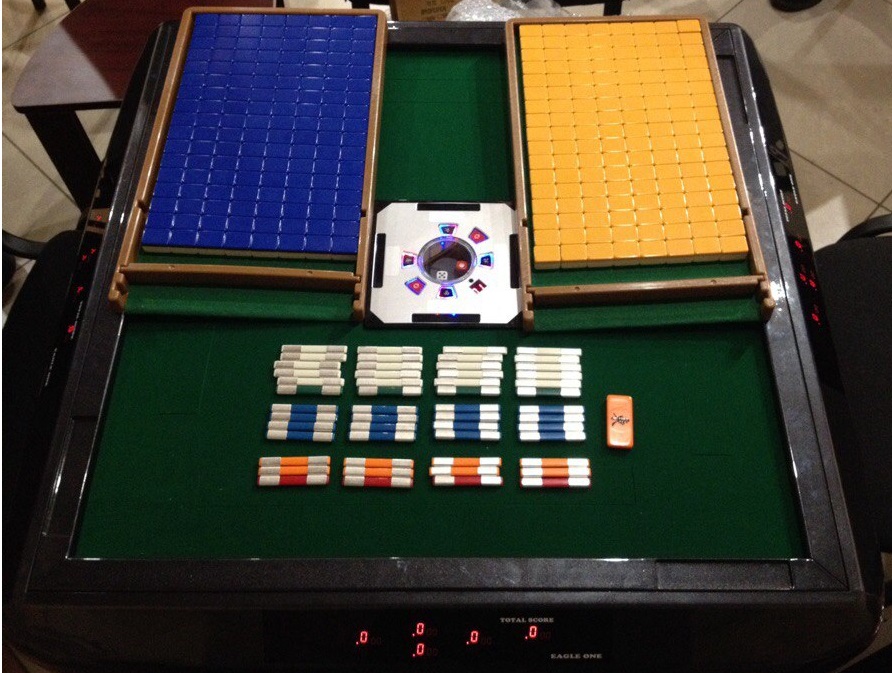 Automatic table mahjong set as it will be given to you by «Trilogiya» manager. Table will already be plugged in and ready.